What is SEM? SEM stands for Search Engine Marketing and it implies the ability to buy (bid) on search engines like Bing, Google, Yandex, Yahoo, Baidu and others.
Most companies use SEM to compete for 1st placement in search engines as these SEM results, most frequently show up in search engines before normal SEO results (ie,. Google displays the first 5 positions of its results with SEM bids, the next 10 with SEO results and the last 5 again with SEM).
All the above search engines have an ad platform for search engine marketing. Due to the increased traffic on Google, the most well-known (and effective) platform in use nowadays is Google AdWords. Bing Ads and Yahoo Search Ads also count as SEM platforms one can use.
But not all SEM is "search engines result", as the one described above where an user inputs a keyword, and the search engines show the result based on the bid of the advertisers, there are also Facebook Ads and other social media ad platforms, which in example, are pay-per-click platforms that do not fall within the SEM category. Instead of showing your ads to users who are searching for the content like search ads do, social media websites introduce your product and services to people who happen to be just browsing through their news feeds. These are two very, very different types of online marketing.
---
What is SEM?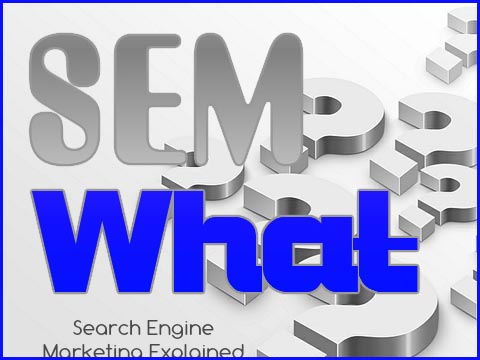 Keywords are very important for SEM, just as they are important for SEO. When you create SEM campaigns, you choose the keywords that determine which ads will show up on which searches made by users. As a result, in-depth keyword research is the very important to running a successful search engine marketing campaign. Marketers will want to run campaigns targeting the exact keywords or if not, they may miss their target audience.
Because search engine marketing puts advertisers directly in front of users who are actively searching for what these advertisers have to offer, SEM is always a great investment for businesses. Outranking every organic result through ads is an enormous advantage, even if you do have to pay for every click and this can affect a business revenue.
---
More academic research on the topic:
Search engine marketing requires a combination of knowledge and business skills, writing and techniques. Whatever your current level of knowledge about Search Engine Marketing, this guide aims to clarify some key points and show you how to get started and take advantage of the SEM options. As with any marketing activity, you will want to attract your target audience and markets. In the case of search engine marketing, your target audience is Internet search engines that look for information related to certain words and phrases. You may want to use search engine marketing to create direct answers (for example, generate inquiries, leads and sales), to attract people to your website or you may see opportunities in the development of marketing branding potential of search engines. Search engine marketing is different from other forms of "online advertising": it satisfies the Internet user when they need it or want it. When people are searching online for things that your organization can offer, it is important to put your website on your radar. It is important to remember that search engine marketing is essentially the skill of a writer. The high ranking in the search engines for a phrase is not enough. The text you read in the search engine results will determine whether they click or not, and then the text on the corresponding landing page on your site will determine if they want to participate more with you. It is important to make sure that all the elements work together or you will simply get high marks but not clients! If you are a technician, then your skills are necessary too! You will need to monitor how a search engine marketing campaign fits the other priorities of your business and your skills will be especially valuable in explaining to others in your organization how these things work and why it matters. A good search marketing campaign is a team effort and involves the contribution of writers, technologists and marketing specialists.
Basic concepts of search engine marketing
You have already identified that the search is important for your business. You want more search engine visitors on your website. Good idea! It is estimated that 90% or more of all B2B buyers use search engines to find suppliers and partners. It is also estimated that more than 75% of the world's web users use search engines regularly. If you get a search engine marketing, you will see impressive increases in visitors, queries and sales. There are 3 different types of search results:
1. Organic results. These are the results you see in the main center results section when you search. Most people trust these "natural" results and more than 60% of people click on one of them. If your website is "compatible with search engines" and is optimized completely and correctly, then a page of your website will often appear on the first page of search engine results, where more than 90% of the users click. The functionality of the CMS has been designed to facilitate the increase of its classification in these organic results.
2. Results paid. Search engines such as Neti, Google and Yahoo provide a paid placement solution for search advertisers. You can buy "words", so when a search engine is searching for "your words", your ad appears. Usually, this is a banner ad or, more often now, a text ad that looks similar to the organic listing. Often, these "paid ads" are called sponsored listings. It is also possible for large sites to make sure that all their pages are listed in some "search engines". This is called paid inclusion. The global paid search market is growing rapidly. The expected size of the market is 4,500 million euros for 2009. Paid search marketing is important, but you should not forget that more than 80% of search engine users ignore the paid results, so this is not a repairable strategy.
3. Paid and directory listings. There are many directories and websites specific to the industry / interests that will offer you the opportunity to "be on the list" for free or for a one-time annual fee. Usually, complete a form and send it to an editor who reviews your site and places it in an appropriate category.
As a search engine marketer, it is important to identify which search engines use your target markets and "prioritize and promote" your website to as many of them as possible. Then there are also specialized search engines for each topic you can imagine: shopping search engines like Froogle.com, image search engines and exchanges of B2B buyers. In fact, for your company, there are probably hundreds of relevant directories and search engines, especially if you are looking to increase your sales abroad, for example. export, tourism, real estate etc.
Title
What: The title tag is the line of text that is displayed at the top of the browser window, above each web page. It is the most important label on the page. The words on the title tag also appear on bookmarks or when you save the page, for example. as a favorite
Why: The title is also displayed in the search results in the search engines. Studies suggest that about 30% of people focus on the content of the title before deciding whether to click or not.
How to take advantage? Be sure to write a short and attractive page title that describes the content well and can make the search engine click. Include words that you know or think searchers would use to search for information on this page.
Good example of title: "Free search engine marketing guide".
Meta description
What: The description tag is "hidden" in the code, sometimes seen in search results, but not in the visible part of the actual website. Some search engines look inside the description tag. The description is sometimes displayed below the title in the search results.
Why: The meta description tag is a good place to summarize the content of the page and perhaps include a sales or marketing message.
More than 40% of the search engines make the decision to click based on the text that is displayed below the title in the search results. The description tag often provides this "text fragment".
How to use: use this tag to write something that gives the search engine a reason to click.
Make sure that the text you type for the description tag includes the keywords you used in the title, the words for which this page is optimized. CMS allows defining the meta description in each web page. Good example: "Free search marketing guide. Our CMS provides user-friendly content management systems for the marketing of low-cost search engines. "
Keyword tags What and why: Opinion is divided over the relevance of the keyword tag. Certainly, it's not as important as it used to be, but some smaller search engines can still examine the keyword tag.
This is where you can put words associated with the content of the page, but in reality they still do not appear on the page. Some people argue that you should only put words (in the keyword tag) that already exist on the page.
However, it is not too important and, without a doubt, leaving the keyword tag empty will not affect your chances in the search engines. It is here for the sake of tradition and integrity. How to take advantage: it is a good place to put plurals and misspellings and other words that could be used to say the same thing.
You can also use to keep track of your search engine's marketing notes for that page. possible example: "Estonian, software, designers, tallinn, Talinn, talin, web, internet, business solutions, search engine optimization, optimization".
Header tags (H1-H6)
What: As the name suggests, H tags should be used in the titles of articles, headings and subtitles of the content of a web page. You can use H tags as an alternative to prominent text, which you may have previously added / encoded as images. Often, the content of the H tags is different in color, font or bold.
Why: H tags are title tags and some robots see them as "magazine article titles" and give their content additional importance.
The proper use of the H tags also facilitates the text for the human eye to explore the page in search of the main themes. How to take advantage: use the H tags to summarize the title or highlight important aspects of the information on the page.
Use subtitles to draw attention to key points. Try using words in the title and description tags in the header.
labels to increase the "match". If a search engine "sees" a word or phrase that appears in the title, description and headers, it will have a good score and a high rank in the results. Use relevant and connected words in headings too. Example of main heading (H1): "Search engine marketing guide" Examples of subtitles (H2-6): "Title tags", "Description tags", "Keyword tags", "Header tags" , etc.
Alt image tags
What: You are probably using some images on your website. Search engine robots still can not read or understand the content of the image, so they depend on the words they find in the Alt tag instead. The text of the Alt tag is displayed (or heard if a screen reader is used) when the mouse moves over the image. In Saurus CMS you can add a title text for each image now.
Why? If you have an image of your new product, label the image clearly as "product x" so that someone can find it when searching for images from Google or other image search engines. Also keep in mind that sometimes you can use image maps to generate page headers and other "important" text. Again, you should consider adding an Alt tag with the same text. There is another reason to use Alt tags. Users with visual disabilities who use screen readers rely on the content of Alt tags to better understand the page.
Not filling the Alt tags means that those users can not understand the meaning or context of the images. How to take advantage: write useful descriptive texts to explain your images. If possible, use words that are relevant to the theme of the page.
Example description of the image: "Photo of Robin Gurney (altex) and René Lasseron (Saurus CMS) launching the new content management system friendly for search engines in Tallinn, Estonia". Be careful not to override the Alt tag with keywords or it could be banned by the search engines. Be reasonable.
Site Map
What: The system now automatically generates a sitemap of your website.
Why: Both humans and search engines like to easily see what's on their website. This is not only useful for users to find content on your site, but also helps search engines do the same. Search engine robots can now understand (faster) when their content increases or changes, which should make their results more accurate.
How to take advantage of the advantages: make sure that the delimiter text (the text that you see when you pass the links on the site map) contains descriptive information about that page.
Use words that help users and search engines to better understand the topic of your site. It is also possible and advisable for owners of large sites to consider the possibility of further customizing the site map to include viewing categories and subcategories of pages.